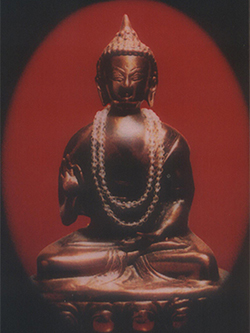 Poornam, as the name suggests, is a 'Centre committed to Holistic Life'. This is the brain child of Rani Venkat, a Being committed to make difference in the life around her, wherever she can and whenever she can. The word "holistic", at the Poornam Centre, imbibes the Trion of life forms in the Universe - i.e. Body-Mind-Soul. A conscious synergising between these three levels is Holistic Health/Life. Achieving holistic health, is a continuous process in life; and not a curative one, when symptoms surface.
In the present times, we understand healing as a curing process, when a dis-ease appears on the physical level. However, this manifestation on the body is the final stage of the dis-ease, after having been seeded-rooted-grown through the mind and soul levels.
Of course, one has to handle the physical discomfort through modern medicines/surgeries, but further manifestations can be seeded out through further healing than by modern medicines. For this,one needs to understand that life exists beyond the anatomy also, and the disease has affected areas beyond body. A Holistic healing, therefore, involves looking into everything on the trion levels - including modern medicines, life-styles, work-style, relationship issues (with self and others), expectations (from life, self, others), stress, etc. etc.
In toto, healing at Poornam centre involves combinations of therapies of bygone eras and modern times, to bring about a qualitative transformation in the life of the individual. This is an exercise of INCLUSION in life and not exclusion.
At Poornam, attempts are not to cure a disease (for which we have Doctors in our life). We only empower an individual to qualitatively live a full life till they die, rather than living like a walking dead body, waiting to die and be cremated. This involves work on the thought, the words and the actions level, mirroring on the Soul, Mind and Body. This starts with aura-diagnosis and then depending on the need, healing therapies are decided; which can include meditations, visualisations, regression techniques. Release of pent up emotions and feelings, does facilitate deeper healing and opening. However, confidentiality of all persons is always maintained and not discussed with anyone. All this helps in holistic approach.
Top